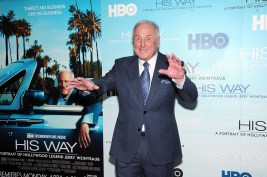 Getty Images
Before you feel misled, keep in mind that
"His Way"
is not about Frank Sinatra; that was
"My
Way." No,
"His
Way" is a documentary that premiered on HBO Monday, about legendary Hollywood film producer Jerry Weintraub .
Weintraub's childhood mixed a modest life, a rough neighborhood in the Bronx, a united family and a father who left an indelible imprint on his life as a charming and determined gem dealer. This would be the combination that jumped started a truly remarkable life.
http://www.nbcwashington.com/blogs/niteside/His-Way-119292919.html